Share this with your friends
PHOTO: Parlor Tattoo Prints on Etsy
In the Parlor Tattoo Prints shop on Etsy, you can get lost for hours staring at Bill Murray as Steve Zissou, a generous side view of the Millenium Falcon, Pinhead, and flapper lovers in old school tattoo style. Some of our Ladybud staffers are actually considering getting a few of these permanently etched on our skin. For those of you fascinated with the images in a less intimate way, you can order a variety of beautiful designs for display in picture frames. Designer Quyen Dinh is a self-taught artist from Orange County, CA. She was born in Vietnam and was part of the boat people refugee generation. Having studied film at USC and graduated in 2004, she likes to spend most of her time dedicated to creating new prints, running her blog, and planning new projects.
Individual Die Cut Portrait of Severus Snape
Styled as if Gustav Klimt himself designed this sticker (at a very reasonable $4), artist Karen Hallion has captured our hearts with the swoon-worthy creepster of the Dark Arts. Pensive and torn, his sweet suffering is trippy and influenced by strange designs swirling about his person in amethyst and various kinds of green. Oh, Snape. You dirty, sweet mage. MEOW! Let me stick you on something special!
Cross Stitch Michonne from The Walking Dead
Oh, hell yes! Based on the baddest assed character on the AMC hit show 'The Walking Dead', Kitara-wielding Michonne is translated into cross stitch form and is reminiscent of pixelated NES game images from the early days of the cartridge era.  We love this piece because it's not only as tough as Michonne but it just tickles us that she's made it into the realm of thread arts. Created by Melissa Theel, a Masters Student in Sacramento, CA , she enjoys cross stitching her favorite characters and quotes. She takes custom orders at her Etsy shop, Cross Stitch Spitch. SLOOSH! Off with your Walker head!
Jabba the Cat Art Print
Star Wars? Check. Jawa Cat with feather teaser? Check. Jabba the Cat? Check. Princess Leia mouse? Check! We are beyond and perhaps a little too entertained by this Geeky Pet by Alana McCarthy. In her shop, you'll also find other hilarious creatures like Chihuahua Spock, Dr. Who Cat, and Wolverine Cat.
 Lord of the Rings Arwen Lego Minifigure Necklace
The beautiful elven Evenstar, strong daughter of Elrond, wife of king Aragorn, queen of The Reunited Kingdom of Gondor and Arnor comes to you now as if in a dream in the form of Lego regality! Êl síla erin lû e-govaned vîn ("A star shines on the hour of our meeting"), this is a beautiful testament to a lovely character created by J.R. Tolkien. C.H. Gallery also has offerings of earrings and ornaments. We especially loved the Super Mario and Luigi earrings and Poison Ivy necklace. Get your geek on in true style while supporting artist Sarah Crumpler.
Jeff Goldblum Print
This digital print of an original gouache painting of Jeff Goldblum from "Jurassic Park" just drives us to naughty thoughts of running from a ragey, small-armed T-Rex and hiding underneath flipped over jeeps with this quirky sci-fi know-it-all. Look at the smart mouth making all those facts roll out linguistically nerdy-like. Perfect companion for the nether things drawer with the boy shorts and toys. JEFFFFFFFFFFF!
Buffy the Vampire Slayer Willow Print
Buffy got a lot of attention, and the girl could kick some serious ass for sure, but Willow Rosenberg was our hero. Bookish, a little uncoordinated with a touch of social anxiety, we really feel like she was the true star and provided an endless stream of helpful information. This portrait is beautiful and honors the loving and loyal energy of the character who feels more like a sister. You can also find more characters from the series at The Inkling Girl shop on Etsy as well as some other cool, geeky faves like this portrait of Falcor from The Neverending Story.
Big Dune Worm: The Shai-Hulud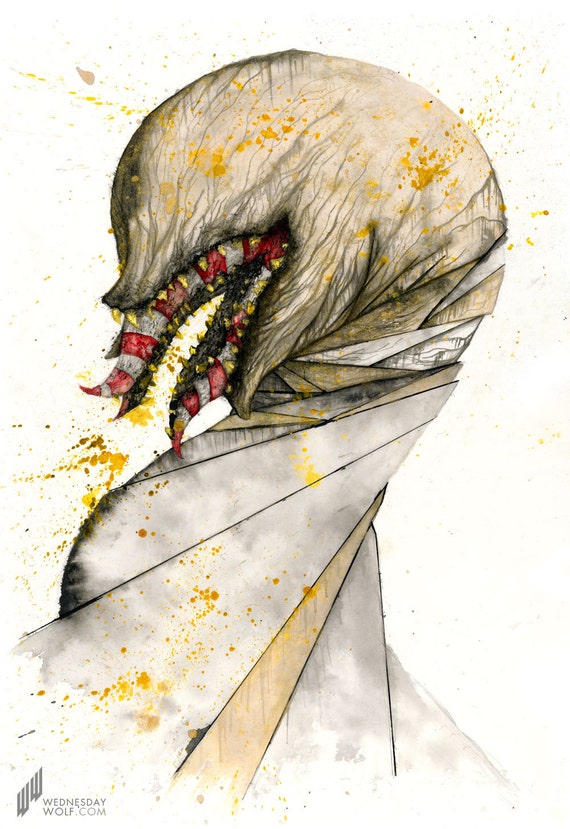 At first glance, the Sandworms from Dune looks really gross…and they are. We like to think of this as a confrontational therapy moment where say, the worm is a euphemism for ego. In the books, they are supposed to be manifesting the direct acts of a God thing but if you reign in your ego (the sandworm) and conquer fear, you can ride out among the dunes of planet Arrakis atop one of these bad boys, shout into Weirding Modules with strange phrases instead of fighting and have these hypnotic and unreal blue eyes from the Water of Life. Have we lost you yet? Also offered by Wednesday Wolf are a vast array of familiar and strange creatures painted with watercolors, ink, spit and…blood! Creepy, sexy, geeky indeed!