Share this with your friends
Shokado Bento Box by dolittledesign
"SQUEEE! SQUEEE!" That's the high pitched sound we made at the Ladybud Magazine office when we saw this collectible bento box. The food is needle felted with 100% wool or hand sewn with 100% wool felt. So tiny, so wistful, so…damn…CUTE. Tiny bento, we be friends, yes? Check out Dolittle design for other heart explosively cute miniatures that give you the same feeling as a quality cat meme or a silly puppy barking at itself in the mirror! Also at DLD, they've got felt itty bitty butter cookies, souffle, animals and several other kinds of collectible miniature bento boxes.
Women's Rights Button or Magnet by TheVeganHippieFreak
Maybe we should classify this as more of a bad ass than a cute thing but it's kinda both. Also, it's got 4:20 in it, which in many circles indicates a time of awesomeness. The seller's description says it perfectly:
"This funny, eye catching button is sure to get people's attention! Recently, conservatives have increased their attacks on women's rights such as access to legal abortion and effective contraception. Those of us who are pro-choice have to speak up and let our voices be heard loud and clear before it's too late! This button is a great, non-confrontational way to spread the message wherever you go. "
Kawaii Chibi Wild Polymer Clay Animals by HappyHuskyy

These adorable little critters are made to order says the creator, so there's a lot of flexibility and plenty of cute to go around. You can create a whole army of super sweet and beady-eyed friends to slay any frown around town. Kids and big people love them equally. Can you hear that sound? It's the sound of happy hearts cooing at their inquisitive and innocent faces.
Cat Pin by OcularOddity
"Odd Pins for Odd People" by Ocular Oddity has a ton of vintage-inspired strange and beautiful pins like this with a wide range of weirdo favorites like robots, cereal boxes, spark plugs, pulp fiction cover designs, blenders, you know, fun stuff. Cats singing on a floral moon that was a vintage Valentine card? Swoon!
Black Pleated Hemp and Cotton Purse by Ickady Bag
This beautiful over-sized bag is lovingly made with a hand woven blend of hemp and cotton. It's practical and hardy but lightweight and gorgeous. With canvas lining, you can be assured that you will not only have a fashionable bag but one that is also as tough as you when it comes to carrying essentials and marvelous ideas. If you'd like it in other colors, Ickady Bag will customize it. A few choices out of many include Coral Orange and Jade Green. Your friends'll be totes jels.
Be Free Sparrow Fly Free Bird Necklace by MonyArt
Do you know why the caged bird sings? We have some guesses (hungry? imprisoned? clipped wings?) but like this necklace, we've flown free from the cages that bind us! This sterling silver necklace is simple, beautiful and sends a distinct message of breaking the shackles that surround us. Elegant, beautiful and cute – just like YOU!
Sunrise – Signed Art Print by krisblues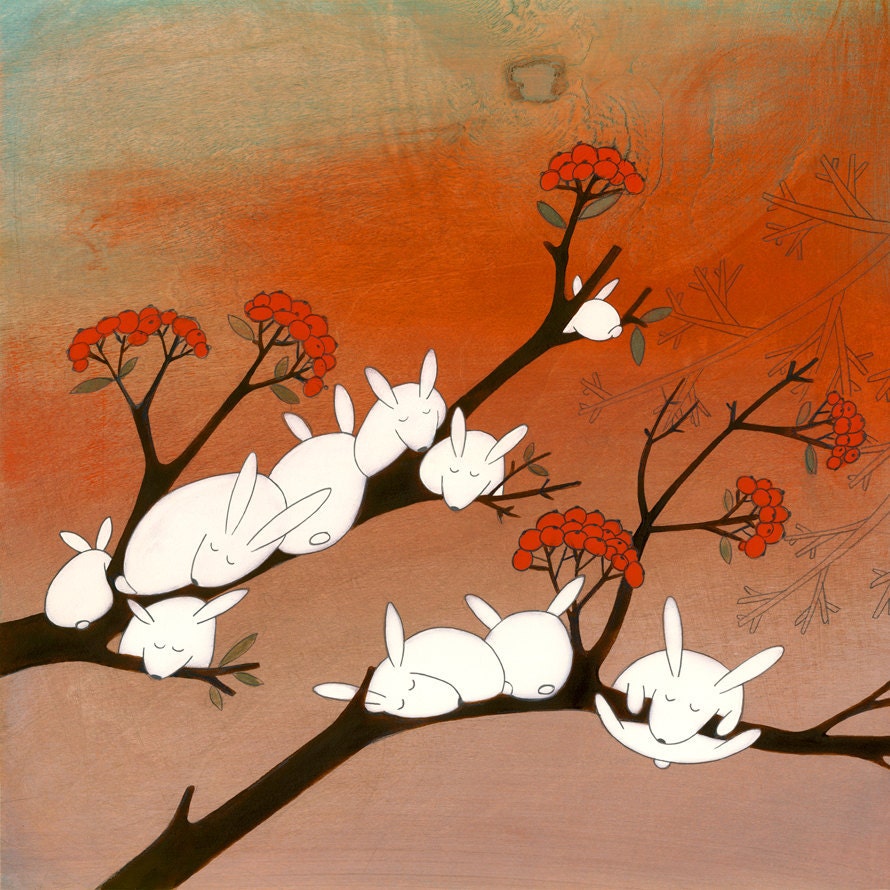 Bunnies perched on delicate branches sleeping with warm background hues and red popping berries? Already cute! But then we wonder, how did they get up there? Maybe they're a floating species of rabbit and quite happy being that way. This would make an excellent addition to any room, especially one with an Asian theme or perhaps for a young child to help them relax with a touch of whimsy and warmth. Plus, bunnies.
A crocheted avocado by YarnBallStories

How we wish we had this when were children! It's so cute and imaginarily delicious. We would have played with this from toddlerhood until, well, now. It comes apart and you can put it back together again. Maybe we'll put a bowl of these in the middle of the Ladybud lobby like our moms did with those plastic bananas and fake squishy grapes from the 70's. Another big plus – these don't go bad when opened and exposed to air.
'Present to Ken' Eco Paper Print by BrittneyWest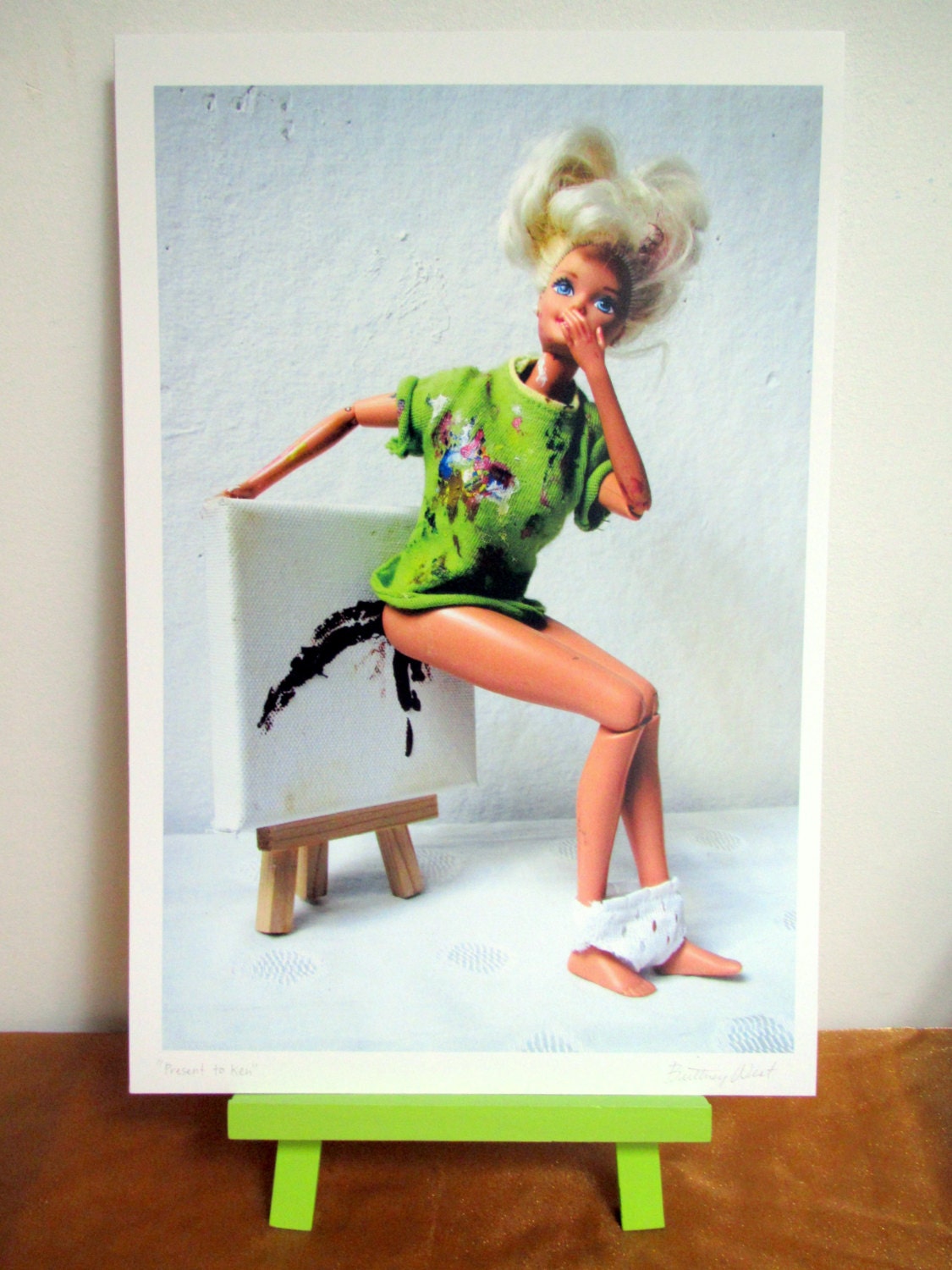 Artist Brittney West says she created this priceless print "after a poopy breakup and that makes for fun bathroom art, a humorous gift, or a genuine gift to that genuine ex." We were actually thinking of getting this for our publisher, Diane Fornbacher, as she adores all poopy joke things aside from actual poop but we wanted to share this gem with you first.
It's Just A Plant – Victorian Cat Dictionary Page Book Art Print by WhiskerPrints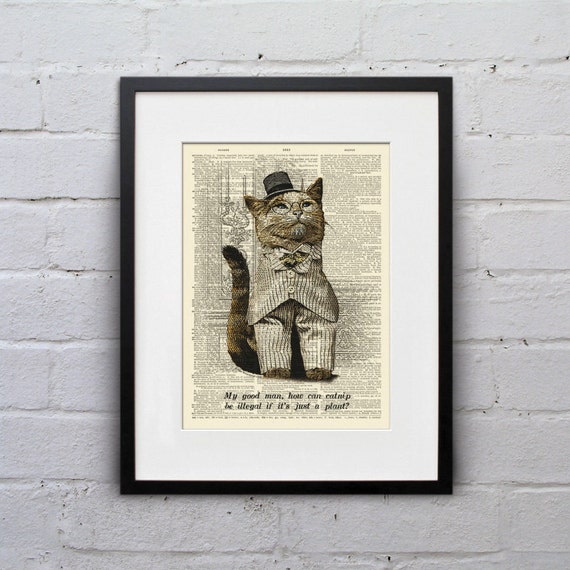 "My good man, how can catnip be illegal if it's just a plant?" Our thoughts exactly, Mr. Cat! Do we have to go on about why this is so cute and succinct? Okay, no problem! Mr. Cat (who probably possesses a very distinguished accent) dons a tiny hat askew, has glasses (indicating that he is not only very intelligent, but cute and hard of seeing), a pinstripe suit and an ascot. An ascot! We, we just died in your arms tonight! It's must've been something he said…