Share this with your friends
PHOTO: Theodor von Hörmann (1840–1895) 'Retting Raw Hemp' oil painting
We're huge fans of the folks at Vote Hemp. There are only a few hours left in 2013 to do some year-end giving and since hemp is one of our all-time favorite things on this Spaceship Earth, we invite you to get to know the wonderful organization helping to lead the charge to bring hemp back on a national scale to its once prominent place as one of our country's top resources. And get this, if you make a donation before midnight, your gift will be doubled by Dr. Bronner's Magic Soaps, who will match it dollar-for-dollar up to $50,000!
Here are some highlights from 2013 and the year of hemp (originally posted by Vote Hemp):
The Industrial Hemp Farming Acts (H.R. 525 and S. 359) gained unprecedented support in Congress with 49 bipartisan co-sponsors in the House and key leaders in the Senate expressing support including Sen. Leahy and Sen. McConnell.
An Industrial Hemp research amendment to the Farm Bill (H. AMDT. 208) passed on the House floor with 225-200 margin, including yes votes by 63 Republicans and 162 Democrats. In the highly partisan environment of this Congress, this was a huge victory and the first vote in Congress for industrial hemp policy since the 1950s!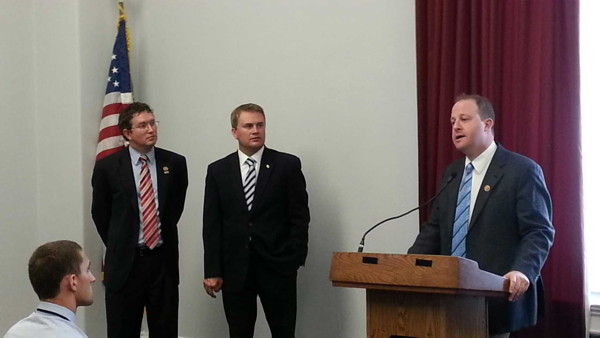 Rep. Thomas Massie (R-KY), Kentucky Agriculture Commissioner James Comer, and Rep. Jared Polis (D-CO)

Vote Hemp held several Congressional briefings and met with hundreds of offices during the year to educate on the benefits of the crop and need for reform.
Industrial Hemp legislation was introduced in a record 21 states.
In California, the 4th time was a charm with hemp legislation passing nearly unanimously in the legislature and finally being signed by Governor Brown.
Hemp legislation also passed in Colorado, Kentucky and Vermont. Hawaii passed a pair of pro-hemp resolutions.
Vote Hemp and the Hemp Industries Association (HIA) cosponsored a hemp farming symposium in Loveland, Colorado to a packed house of farmers, businesses, policy makers and media. Hemp farming experts from Canada spoke, along with state legislators, and the president of the Rocky Mountain Farmers Union.
Vote Hemp sponsored a hemp lobby day in Washington, DC during the HIA Conference with more than 40 staff meetings and several supporters speaking with their Senators.
Vote Hemp president Eric Steenstra spoke at a hemp farming forum hosted by Rep. Earl Blumenauer in Portland, Oregon on November 9th along with state officials, prospective hemp farmer Rick Rutherford and Errol Schweizer from Whole Foods Market.
Oregon U.S. Attorney Marshall sends a letter to Rep. Blumenauer stating that she will allow hemp farming if well regulated. Vote Hemp applauds her position and responds with a legal memorandum titled, "Ability of States to Implement State Laws Authorizing and Regulating Cultivation of Industrial Hemp."
Hemp Legislator of the Year Award 2013 was given to Rep. Jared Polis of Colorado for his efforts to pass the industrial hemp research amendment to the Farm Bill.
Hemp Leadership Award for 2013 is given to Kentucky Agriculture Commissioner James Comer for his excellent leadership in the promotion of legislation which furthers the goal of legal hemp farming.
The Year Ahead: 2014
We are working hard to keep the Polis hemp research amendment in the final version of the Farm Bill, which is in Conference and is expected to be finalized in January of 2014. If we are successful in this effort it will be the most significant development in federal hemp legislation in over a half a century!
We will also work to build grassroots support and expand our coalition in the U.S. Senate. We plan to hold a briefing for Senate staffers and push for hemp reform language to be included in legislation which has a chance of passage.
We will work with the Hemp Industries Association to hold more hemp farming symposiums in states where hemp farming is legal.
We will work aggressively in California, Colorado, Kentucky, Oregon, Vermont, and Washington to help develop good administrative hemp regulations, and in other states to help introduce more pro-hemp legislation and resolutions.
Our goal is to apply even more intense pressure on Congress and the Obama Administration to remove all federal barriers and once again allow states to regulate hemp farming without interference.